If you're tired of shaving, tweezing, or waxing to remove unwanted hair, laser hair removal may be an option.
---
AP Dental & Laser Center offers the latest advances in laser hair removal technology, helping to boost your appearance. We are easily accessible and our aestheticians are knowledgeable in knowing what is best for your skin and hair type.
Laser hair removal can remove hair from any area of the body including the face, legs, arms, underarms, and back. It can also treat sensitive areas like the areola and bikini area. Hair follicles cycle continually through three distinct phases: growth, regression, and resting
---
---
How does laser hair removal work?
---
During laser hair removal, a laser emits a light that is absorbed by the pigment (melanin) in the hair. The light energy is converted to heat, which damages the tube-shaped sacs within the skin (hair follicles) that produce hairs. This damage inhibits or delays future hair growth.
---
Benefits of laser hair removal
---
Lasers are useful for removing unwanted hair from the face, leg, arm, underarm, bikini line, and other areas. Benefits of laser hair removal include: Precision. Lasers can selectively target dark, coarse hairs while leaving the surrounding skin undamaged, smooth and helping to reduce ingrowing hairs and less irritation of the skin.
---
Treatment time and costs
---
The treatment time for laser hair removal services varies, depending on your area of interest. Sessions range from 5 minutes to an 1 hour.
Package of six session prices vary from $599- $1599 per area.
---
What you should know before getting laser hair removal
---
Laser hair removal is not for all hair types. Red hair is more difficult, though not impossible, to remove and white and grey hair cannot be removed with laser treatment. Because the hair actually lacks pigment, it's not possible for the lasers to identify the hair follicles and destroy them.
When it comes to pain level, laser hair removal falls somewhere between minimal and moderate pain. It also depends again on area of interest and your tolerance to pain. The technicians can use ice to help numb the area before and after the laser treatment. It also gets progressively less painful as treatments continue and the hair becomes finer.
Potential side effects include redness and irritation, risk of skin infection, and changes in skin color. Rare sides effects are risks of burns, blisters and scars.
---
Laser Hair Remova FAQs
---
Q: Is six treatments all that is needed for permanent hair removal?
A: Everyone varies. Permanent hair removal may need 6-12 treatments for full results
Q: Do I come on a weekly basis?
A: Treatment on the body is every 6-8 weeks and for the face it is ever 4-6 weeks so we may treat hair and follicles at different stages of growth.
---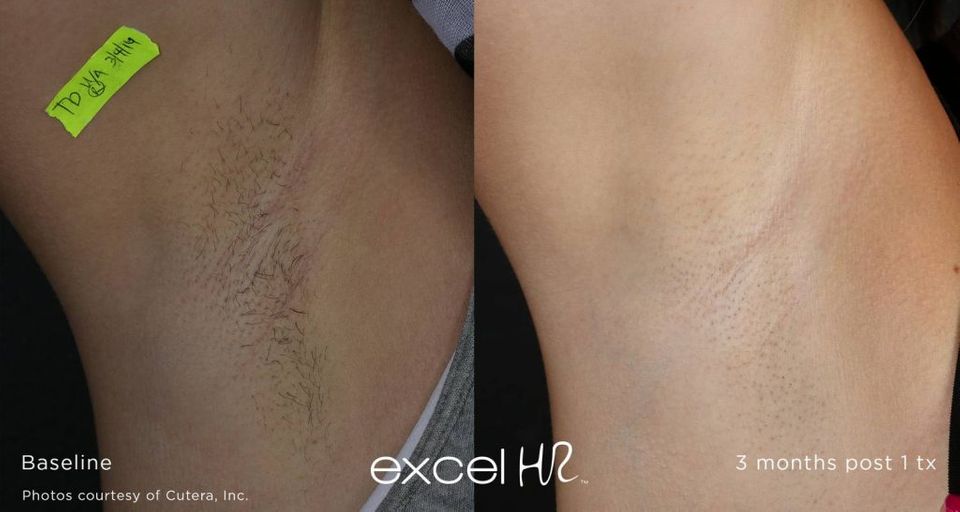 ---